Custom Graphics Help Engage
Fitness Enthusiasts
Finding time to work out can be a challenge given all the distractions and obligations of everyday life. Mountainside Fitness of Arizona has created a welcoming workout atmosphere designed to motivate gym-goers while establishing itself as a premier fitness brand.
Placing healthy living mottos on wall coverings and motivational indoor graphics in group fitness rooms, Mountainside Fitness and the Signs By Tomorrow (SBT) Scottsdale center came together for the grand opening of the center's newest location to create the perfect signage solution. As the fitness chain continues to grow in scope and size, Signs By Tomorrow is responding with full-service communications solutions for the fast-growing enterprise.
More than just providing oversized wall graphics, Signs By Tomorrow solutions impress fitness enthusiasts craving a great workout in a modern environment. SBT Scottsdale center owners Brad and Sheri Beller coordinated the large-scale signage solution effort for the opening reveal which included directional and wayfinding signs, transparent vinyl signs, custom wall graphics, foam dimensional signs and much more.
Mountainside Fitness Solutions:
Foam Dimensional Signs
Tabletop Graphics

The Challenge: Short Turnaround & Changing Orders
The biggest challenge facing Signs By Tomorrow was a lack of time. "The original job
estimate allowed several months for completion," Sheri Beller says. However, changing circumstances left Mountainside Fitness with just two weeks to finalize its custom indoor signage. Fortunately, SBT Scottsdale was able to meet this drastically shortened time frame, despite the added challenge of being short-staffed due to the holiday period in which the work had to take place.
---

"Our biggest obstacle was time.
The client called to green light the job and
needed it all done in very short time."
-Sheri Beller, co-owner - Signs By Tomorrow Scottsdale, Arizona

---
SBT demonstrated flexibility and a positive attitude, even in the face of last-minute order changes. "[The client] added items and sometimes the inventory was back-ordered," Beller remarks. In response, SBT shipped overnight and has been able to anticipate future inventory orders. Beller says she plans to purchase and store additional supplies to respond to similar challenges with future jobs.
The Response: "We Can Do It" Attitude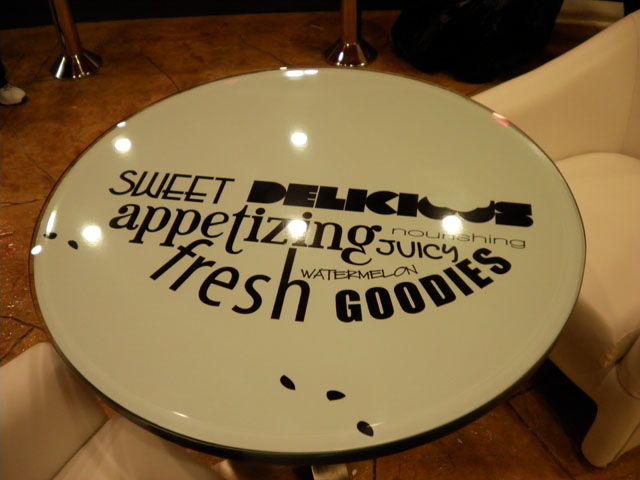 Despite the challenging conditions, Signs By Tomorrow was able to deliver high-quality custom graphics that make Mountainside Fitness more attractive to current and potential customers while reinforcing the company brand. As in the case with all SBT custom signage centers, Scottsdale is committed to overall customer satisfaction, responding to any client challenge with a "we can do it" attitude that produces an innovative solution to any problem. Whether it's a short turnaround or a unique order, SBT delivers one-stop shopping for all custom signage and graphic communications.
To ensure that Mountainside Fitness' grand opening was a big success, SBT went above and beyond the requests for signage to deliver a comprehensive fully branded signage package. SBT looks forward to working on future fitness center openings for the chain slated for the coming year.
---
"For the future, [SBT] will buy more
than we need, anticipating that [clients]
needs change and evolve as the job goes
into production."
-Sheri Beller, co-owner - Signs By Tomorrow Scottsdale, Arizona
---