SBT Blog
Selecting the Best Material for Your Monument Sign
You've already decided to adorn your property with a monument sign. Now you're in the graphic design stage, a step in the process where you can let your wildest creative ambitions run amok!
But not so fast. Every aspect of your monument sign must fit into an overall vision, and no aspect is more fundamental than the material your signage is made from. Beyond the aesthetic difference between various substrates, many offer a wide-range of benefits and trade-offs.
As you might've guessed, there is no one-size-fits-all material for every business or organization. Choosing an ill-suited material can leave visitors with the wrong impression of your building, or even worse, perplex newcomers struggling to find your home office.
So, join us in taking a closer look at the different materials that make up monument signs.
1. Foamcore & Armored Foam
Expanded polystyrene foam (EPS) is lightweight, durable, and impervious to rot and water damage (unlike more traditional materials, such as wood and brick). If you're on a strict budget, foam can be a great way to achieve the time-tested appearance of stone masonry without getting down on your hands and knees and laying actual brick.
And, if you're looking for something even closer to the look of real masonry, foamcore-based paneling allows for the application of a veneer. These veneers range from synthetic stucco to granite; they feature the natural imperfections that give masonry its unique beauty.
Foamcore monument signs are much easier to remove than signage fabricated using other materials. So, if you're thinking about replacing your monument sign later down the road, foam core might be your best bet.
2. Aluminum and Metal
If you prefer the sharp edges and the sleek simplicity of modern industrial design, you'll love the look of an aluminum monument sign. Malleable, cuttable, and ductile, aluminum will give your business the highest degree of customizability as far as shape is concerned.
Other metals, such as wrought iron, will deliver a similar appearance with more rigidity. However, the biggest benefit of aluminum is that it's rust-resistant, so you'll have much less time and money spent on maintenance.
Now, if you want illuminated signage or a digital message board, you'll be out of luck (for the most part). Aluminum monument signs can only be lighted from the exterior with angled lights. While this may be considered a setback for some businesses, exterior lighting delivers a moody, resort-like atmosphere at night.
3. Plastics
Similar to aluminum, plastics like acrylic and high-density urethane can be formed into an extensive assortment of shapes and sizes. If you have a complex design in mind, plastic is the way to go.
Make sure to match the plastic monument sign to your building's façade by choosing complimentary colors. Since plastic can be fabricated in almost any hue, accenting the color of the office or even coordinating with the same color can give your architectural signage a huge boost.
4. Wood
Commercial and municipal properties steeped in tradition, such as cottage resorts, state parks, hotels and luxury stores, benefit from a rustic and nostalgic quality that only wooden monument signs can provide. A charming routed or carved wooden sign can be an inviting addition to your business's entrance or parking lot, too.
Fully varnished wooden signs are weather-resistant – however, expect to perform regular maintenance in order to avoid termite and insect damage. Wooden monument signs may also wear down over the years, especially if your business is located in a geographic area prone to adverse weather conditions.
5. Stone and Brick Masonry
Yes, it's possible to build a monument sign out of the same type of material used to build the Taj Mahal, the Great Wall of China, and St. Peters Basilica. While by far the most expensive option on the list, natural stone monument signage is the most stable, and possibly the most elegant (depending on your tastes).
If you're outsourcing the installation and transportation of your sign, be aware that this type of monument sign is much heavier. Hundreds of pounds heavier. Pricing might vary accordingly.
6. Poured Concrete
The most utilitarian option, concrete is a viable choice for those who want a no-frills look, along with longevity. Poured concrete is virtually indestructible, and is commonly found at the gateways to cities and local parks.
For more professional tips and tricks involving monument signs, you can rely on the experts at Signs By Tomorrow®.
"What sign material will work best for my business?" you ask. Find out with an expert site assessment courtesy of Signs By Tomorrow®. We have a variety of Outdoor Solutions for all applications and budgets. And if you're looking for an eye-catching addition to your monument signs, we offer LED Displays. We invite you to learn more about what Signs By Tomorrow can do for you. To get started, contact us today.
INFOGRAPHIC: The Wonderful World of Monument Signs
Monument signs help you identify your location in an elegant and impressive manner. Usually positioned close to a main road, they serve to identify the business, organization or tenants occupying the site. As pedestrians and motorist pass, the monument sign catches their eye, drawing attention to the organization.
Check out our infographic below, for more facts about these big, bold and durable signs.
---
What Is Architectural Signage and Why Is It Important?
Architectural signage is a term that's loosely defined, yet used liberally throughout the signage industry. But for newcomers, asking about the purpose of an architectural sign system can provoke stutters and meandering statements from experts and up-and-comers alike.
After all, simple questions can sometimes elicit complex answers. Ever try to explain why the sky is blue? Arcane references to scientific theories, wavelength, scattering light, etc. are all necessary. The same principle holds true when it comes to visual communications.
And that's because the ideas behind architectural signage are extensive. A single sentence falters at encapsulating the full meaning behind the concept. Still, we'll try to break down the core constituents that make architectural signage unique and important to businesses, municipalities, and more.
Here's the textbook definition, simplified.
Sometimes a single sign isn't enough. And sometimes a company's signage goals go beyond strictly advertising or making an impression at a trade show. That's when architectural signage comes in.
Architectural signage, as the name implies, concerns buildings and manmade structures. The majority of these facilities are campuses, offices, and government organizations, though almost any large building can benefit from custom-designed signage.
Brand identification and wayfinding signage are necessary for a building to maintain a professional appearance and navigability. Every sign should work together under a unified design language, material, typography, and representation of brand.
So, architectural signage is the art of combining the aforementioned elements into an aesthetically pleasing mix, which overall represents the business and complements the environmental décor of the building. While it sounds intricate, the process can be boiled down to bringing the messaging within a structure to life.
So, what goes into fabricating a successful architectural sign system?
Design – Sure, architectural sign systems need to be visually attractive (who would want to look at an ugly monument sign every day they drive into work?), but they should also enhance their environment. Form should follow function. Famous furniture designer Charles Eames once said, "Design depends largely on constraints." Signs serve a purpose, and they are constrained by that purpose – they are not decorations or sculptures.
Quality – Exterior signage should be robust, while interior signage should look elegant. Materials must be constructed with attention to detail and longevity in mind. Maintenance and sign repair are real possibilities that will require monetary investment down the road.
Code Compliance – Ensure that the signage company you're partnering with is aware of OSHA and ADA guidelines. Accessibility requirements are of considerable significance, particularly for visually impaired and physically disabled patrons and employees. Without compliant signage, your company runs the risk of being fined.
What types of signs are usually associated with architectural signage?
Nowadays, architectural signage involves almost every indoor and outdoor application you can think of from digital message boards to bathroom signs. Signs By Tomorrow produces wall graphics, dimensional lettering, lightbox signs, ADA safety signs, dynamic LED signs, directional signs, among other display options – all in the service of creating a cohesive architectural sign system.
But why should I care?
Great marketing and branding doesn't stop with media, printing, and digital advertising. When a possible business partner or client visits your headquarters, they form a general impression the moment they set foot on the compound. Unfortunately, decrepit signs and poorly maintained channel lettering are hard to look past.
After their initial judgement, then they must find their way around the building or facility. And if they can't find their destination without a map, they may become frustrated and leave.
Beyond all the doom and gloom, however, is a missed opportunity to brand. As people encounter personalized graphics, they begin to associate your business with a certain set of values, personality, and professionalism.
For more professional tips and tricks involving building signage, you can rely on the experts at Signs By Tomorrow®.
"What signs will work best for my indoor environment?" you ask. Find out with an expert site assessment courtesy of Signs By Tomorrow®. We have a variety of Indoor Solutions for all applications and budgets. And if you're looking for an eye-catching display for your office, we offer Reception & Office Signage. We invite you to learn more about what Signs By Tomorrow can do for you. To get started, contact us today.
---
INFOGRAPHIC: Building Signs
Building Signs: Study after study show they're the sign of a smart retailer! Our infographic below outlines some of many reasons your store or facility could benefit from updated building signage.

---
Indoor Building Signs: Which Materials Should You Use?
The options for indoor building signage seem truly limitless. Custom messaging, shapes, colors, and sizes – with all of these design factors to consider, it's easy to lose track of the bigger picture.
As you'd expect, the discussion about what your sign will actually consist of often gets lost in the shuffle. Consumers and business representatives may fail to bring up the subject of sign materials. Consultants may generalize in laymen's terms, brushing over the finer details (such as asking if you want plastic signs instead of differentiating between acrylic, PVC or Coroplast).
Well, at Signs By Tomorrow, we believe informed customers provide the greatest partnerships – if you win, we win; and everyone leaves happy as a result. So, let's look at the nitty-gritty of indoor building signage materials, and discover which substrate best suits your business or organization.
1. Corrugated Plastic (Coroplast)
This is one of the more popular materials, but not necessarily for building signage. In fact, you've likely encountered Coroplast signage alongside neighborhood lawns during the election season when they're primarily employed as displays of political solidarity.
The reason? They're cheap, lightweight, and include wire frames and posts. While we don't recommend using them indoors (as they're limited in design and less aesthetically pleasing than their alternatives), they'll last for about seven years in an office or indoor space.
2. Polyvinyl Chloride (PVC)
When it comes to signage, PVC isn't anything close to the PVC piping you get at the hardware store when you're experiencing plumbing difficulties. Nope, PVC signage usesa lightweight foam, instead ofthe hard, white plastic we've come to know and love.
Looking for a medium-term indoor solution that looks somewhat upscale, yet modest? PVC is your best bet. Many people utilize its homogenous consistency (meaning no layers, unlike Coroplast) and satin finish for menu boards, POP displays, and trade show wayfinding signage. While PVC foam signs can be placed outdoors and indoors, they're better suited to interior applications.
3. Polystyrene/Styrene
Polystyrene signs offer unmatched durability and versatility. While this type of signage lacks the eye-catching allure of a PVC or aluminum sign, polystyrene can be contour cut, fabricated into dimensional letters, and manufactured at various thicknesses.
For these reasons, these signs are popular among those who desire an almost indefinite lifespan for their building signage, as well as those who just want to avoid creasing or yellowing.
4. Acrylic and Plexiglass
A flexible substrate that finds its way into lobby displays, backlit signs, three-dimensional lettering, and wall placards,acrylic offers an upscale appearance without the hassle or fragility of glass. Indoors, plexiglass can theoretically last forever, though you should take care to avoid scratching or dropping the material.
This type of sign material is typically paired with translucent paints or vinyl messaging underneath to ensure readability. Almost any company can find a use for acrylic in their visual communication strategy.
5. Aluminum DiBond (ACM)
ACM, or aluminum composite materials, are stronger than solid aluminum sheets, yet cheaper. Their durability and resistance to high heat makes them excellent outdoor signs, but image-conscious business owners will love the elegant appearance of sheet metal indoors too.
That professional look you see at dealerships and dentist offices? That's achieved with aluminum DiBond – two sheets of .012 aluminum with a solid polyethylene plastic core. We recommend DiBond if you're searching for sleek, modern wall and lobby signage.
6. Foamcore & Gator Foam
Foamcore substrate consists of a soft, inexpensive pulp, and a wood-fiber veneer. As complex as its constituent parts sound, in reality, foamcore signs aren't too far off from the foam poster boards you see in office supply stores. Gator Foam is similar,but contains a polystyrene core, as well as two layers of ultra-thin polystyrene veneer.
Foamcore is common in office displays, kiosks, exhibits, easel signs, and signage that needs a custom shape. Standard foamcore damages easily – you can leave a mark on it with merely a fingernail and a little bit of force – so we only recommend this substrate for temporary applications like events and trade shows.
Gator Foam, on the other hand, is much more durable. And, due to how well the material laminates, GatorPlast has been widely adopted as an inexpensive means for mounting digitally-printed, full-color graphics.
For more professional tips and tricks involving building signage, you can rely on the experts at Signs By Tomorrow®.
"What signs will work best for my indoor environment?" you ask. Find out with an expert site assessment courtesy of Signs By Tomorrow®. We have a variety of Indoor Solutions for all applications and budgets. And if you're looking for an eye-catching display for your office, we offer Reception & Office Signage. We invite you to learn more about what Signs By Tomorrow can do for you. To get started, contact us today.
---
9 Creative Ways to Attract Visitors at Your Next Trade Show
Showcasing your existing product lineup with banners and displays? Amazing. Introducing a new product or service? Stressful, but rewarding. Networking with higher-ups in neighboring industries? An absolute blast.
Now, imagine doing all of these things at the same time. Presto, you've got a successful trade show, ladies and gentlemen.
But it's the making-things-successful part of the equation that many companies and organizations get wrong from the get-go. In any given expo or gathering, there may be thousands of competitors in your vertical vying for the attention of consumers or consumer-facing business partners. Standing out in a crowd that size is difficult. Difficult enough to make anyone in their right mind want to flip their tabletop display over, or tear their hair out.
But this isn't a marketing venture you can just ignore: 82 percent of trade show visitors are directly involved in making purchasing decisions, and over half said they intended to purchase exhibited products or services within 12 months of attending a show. So, how do you tap into the buying potential of these high-intent visitors? We've compiled a list of unique attention-grabbers that will have customers flocking to your trade show booth in no time.
1. Have more people at your booth.
Right now, you might be saying: "What do you mean, more people? If I knew how to do that, I wouldn't be reading this blog!" But we're not talking about holding a random assortment of visitors at your booth, against their will.
What we're referring to is called Social Proof.
Think about it: if you see two burger joints side by side, which one would you walk into – the restaurant packed full of lively people, or the one that's empty? Most people will drift toward the former. After all, everyone couldn't possibly be wrong (at least, most of the time).
So, get a few of your employees into the show, and have them stand around your booth in plainclothes. As an added benefit, they also can also engage onlookers who are on the fence or appear interested.
2. Floors are for more than just standing.
Indoor floor graphics are an unconventional way of leading customers in and out of your designated trade show area.
Sure, you can use them as directional or wayfinding signs, but they also provide a great opportunity for branding and custom messaging. Promotional typography is a great way to transition people from staring at the floor, to mentioning the 20% off sale at your trade show booth.
3. If you're going to go with banners, go with fabric.
Everyone and their parents are going to be hanging vinyl banners high. And those banners are perfectly adequate – in fact, we sell a lot of them – but you're going to want the most vibrant option available to reach potential customers.
Why? Dye sublimation printing of cloth banners creates a full-color, textured look that practically screams elegance. Not to mention don't crease or wrinkle nearly as much as vinyl banners, allowing you to store and transport more of them for an upcoming trade show.
4. Let wearables be a constant reminder of your product or service.
Promotional giveaways have been popular for decades, but for good reason: they turn people into walking advertisements, and remind the wearer of your business far after the event is over.
The key here is to give people an incentive to try on your wearables. Make sure your trinkets, wristbands, stickers, shirts, etc. provide actual value. For instance, a plastic ring with your logo on it will probably be tossed in the junk drawer, while a functional watch might see continuous use.
5. Let them eat cake. Or whatever the caterer is bringing.
Free food will draw people from across different industries, clientele who may not have stopped by your trade show display otherwise. Make sure to pick something with an aromatic scent that'll travel across the room, such as coffee, baked goods, popcorn, or pizza.
Food can be a great conversation starter, particularly if you have staff serve the food individually to each trade show attendee.
6. Tents and pop-ups should be custom-made.
This usually goes without saying. Why would anyone waste all that beautiful, vinyl advertising space on nothing? These days, come in any color imaginable, along with computer-designed graphics.
And if you really want to go for gold, add tent-top custom inflatables to your display. Puppets, large animals, hot air balloons, you name it – almost any shape is possible at Signs By Tomorrow.
7. Integrate social media into your pre-event hustle.
Through platforms such as Facebook and Twitter, you can see who's RSVPing to an event, weeks before it takes place. Use this to your advantage by sharing a little more about your business on the event page, and adding the trade show's hashtags to your Twitter updates.
Facebook Live is an excellent way to get in front of thousands of people instantaneously. For the time being, we consider it free airtime for marketing your company.
8. QR Codes. Place QR codes everywhere.
We are living in the computer age. And until we move past living in the physical world (hopefully in something a little less depressing than The Matrix), there will always be a gap between digital marketing and tangible advertising, such as event signage, pamphlets, brochures, and more.
How do we bridge that gap? With . If a customer is interested in a product or service, they can simply scan the code on display, and their smartphone will take them right to your website, where they should be able to place an order in minutes. No hassles, no fuss.
9. Have fun.
Visitors want memorable experiences, and they'll naturally gravitate towards those who provide them. Industry events can be boring and bookish, especially for newcomers and outsiders.
Draw people in with balloons, music, and free drawings. After-parties are an effective method of networking while still maintaining a level of professional courtesy.
For more professional tips and tricks involving your next trade show, you can rely on the experts at Signs By Tomorrow®.
"What signs will work best for my exhibit display?" you ask. Find out with an expert site assessment courtesy of Signs By Tomorrow®. We have a variety of Trade Show Booths for all applications and budgets. And if you're looking for a high-quality solution to your event, we offer Indoor Fabric Banners. We invite you to learn more about what Signs By Tomorrow can do for you. To get started, contact us today.
---
What Are the Different Types of Banners?
The digital age may have lowered the monetary entry-point for eye-catching digital signage (like LED Signs, illuminated displays, and LCD monitors), but banners can still turn heads. And because they require less maintenance and start at a lower price, you can bet that small and medium-sized businesses will have at least one or two large banners for advertising, indoor and outdoor events, or branding lying around.
With great popularity comes a great bevy of different signage solutions. Banners are the swiss-army knife of marketing – not just because of their versatility but also their modularity. So many types of banners exist, and for almost any application, that choosing the right one is a little overwhelming for first-time buyers. Fret not, newcomer: we have compiled a list of the most popular banner types below. But first, let's go over the characteristics that define a banner.
What is a banner?
Banners are long strips of material bearing a slogan or design, with the intent of representing a company, organization, government, or other entity. They are not rigid, unlike traditional signs.
Though the dictionary may describe banners as being made of cloth, these days a banner can consist of several different materials, all with varying degrees of thickness, pliability, and durability. Banners are differentiated from flags by how they are displayed, rather than by color, shape, or designs. A banner will be attached at both ends, whereas a flag tends to be attached on a single side to a post or pole.
Here are a few of the most popular banner types:
1. Pull-Up & Retractable Banners
Pull-up banner stands, also known as roll-up , are an attractive, double-sided solution for tradeshow events and indoor retail signage. They tend to be around six-feet tall with varying widths dependent on custom specifications. Cheaper than their pop-up alternatives (which we will touch upon later), pull-up banners are easy to collapse and transport.
As you might imagine, their retractable system allows for almost instantaneous setup, but this comes as a price: pull-up banners can't be built much wider than five feet. If you have a smaller exhibition, or want to supplement your existing signage and displays, perfect; otherwise, you may want to investigate pop-up displays instead.
2. Pop-Up Booths and Displays
Guess what pop-up displays do? They "pop" up! Often made of fabric, these are only banners in the loosest sense of the word, but they have the same end-goal as traditional banners: getting people's attention. Often, pop-up booths are used to extend across the entire back of an exhibition's shell.
Have big expectations for your signage? Because of their sturdier support and dimensional nature, pop-up displays can stretch much wider than a retractable banner. Installation may not be as convenient as a pull-up banner, but a few minutes should be enough for setup and takedown.
3. Step and Repeat Banners
Neutral backdrops for booths and walls are a necessary evil. Press photos need to be taken, presentations must be listened to, and keynote speakers don't want to be distracted by their environment.
So, why not take advantage of this drab affair with custom branding? Step and repeat banners allow you to cover up garish wallpapers and boring backgrounds, all while marketing your company's logo and name. The repetition of your logo or pictograph on their fabric allows them to slip into the scenery, while promoting awareness of your business through photography and video.
4. Suspended Banners & Hanging Banners
Using cables and rods, hanging banners can be displayed above crowds for maximum visibility and promotional impact. While installation for ceiling displays may be a little more involved, the potential payoff can be well worth the effort.
What comes to mind when you think of a hanging banner? Obviously, there's nothing wrong with the classic fabric-suspended-by-two-corners design, but almost any shape you can dream up – circular hanging displays, elliptical suspended banners, triangle ceiling hangings, square display systems – is available at Signs By Tomorrow.
5. Mesh Banners
Vinyl is popular, there's no questioning that. But mesh might just…mesh with your current advertising strategy. Mesh banner stands can be placed both indoors and outdoors and are known for .
The weave of a mesh banner is more permeable, allowing wind to pass through without lifting the banner up like a sail or wing. The major benefit of such a construction is that it allows the banner to brave harsh winds and inclement weather outside, while still serving the primary function of branding or advertising.
6. Fabric Banners
Fabric banners, usually consisting of polyester or satin, provide stunning full-colored graphics that will captivate and awe. Machine-washable and crease-resistant (unlike vinyl banners), these displays are the perfection solution for any business that needs a high-quality banner with little or no setup time.
The show-stopping radiance of a fabric banner can be tarnished outdoors however, so we recommend using them only for indoor applications. But trade shows, sports event, grand openings, housing promotions, and presentations are all fair game.
7. Vinyl Banners
Vinyl banners are an old standby, and for good reason. It's hard to argue with the durability of their material; they can be used both indoors and outdoors, and they are tear-resistant.
Make sure you have the manpower to lift and transport heavier items. Vinyl banners can be quite heavy in comparison to their cloth counterparts, and they can crease if stored improperly or stepped on.
For more professional tips and tricks involving banners and flags, you can rely on the experts at Signs By Tomorrow®.
"Which banner will work best for me?" you ask. Find out with an expert site assessment courtesy of Signs By Tomorrow®. We have an array of for all applications and budgets. And if you're looking for a high-quality solution to your event, we offer . We invite you to learn more about what Signs By Tomorrow can do for you. To get started.
6 Reasons to Use Flag Banners in Your Marketing Campaign
If you're considering running a promotional event this season, or just want to spread local awareness about your brand, flag banners should be first on your list. These portable wonders are often spotted on the side of roadways, pedestrian sidewalks, retail parking lots, grass lawns, and other frequently traversed locations.
But why are these lightweight banners so popular with gyms, retailers, restaurants, auto dealers, street side promoters, and event holders? They must be effective, even though they're not always talked about. And why choose flag banners over other advertising methods, such as billboards, vehicle wraps, or just good, old-fashioned road signage?
Hold your horses. Let's get the terminology down, first.
You may have heard other companies or businesses refer to flag banners under several different phrases: feather banners, flag banners, beachwings, feather flag banners, feather convex banners, etc. (Here's to hoping we've covered all the variations). These terms are completely interchangeable, and generally refer to the same thing, apart from the label "feather convex banner."
Convex refers to the outline of the flag, which is curved like the outer edge of a circle. Remember the whole "a square is a rectangle, but a rectangle is not a square" thing? Likewise, a convex feather flag is a flag banner, but it doesn't necessarily work the other way around.
Confused? We hope not. Let's go over why you should use feather flags to improve your business strategy.
1. Feather flags can be directional, as well as promotional.
With standard, outdoor routed and sandblasted signs, you'll end up spending more time and money on placement trying to create directional and wayfinding signs for your location. Feather flags can be moved on-the-fly to accommodate sudden location changes, whether your place of business is a booth at an event, or an office in a remote business park.
And because flag banners are essentially modular, you can even change the messaging of your sign. In the event your patrons keep getting lost on the way to your establishment, accommodation will be a breeze.
2. Fluttering flags draw attention.
When the human eye sees a moving object, it takes one-tenth of a second for the brain to process that information. That's far less than three to four seconds in which a driver will have the opportunity to look at a moving sign. Even the slightest wind sends the pliable nylon or polyester material of a banner flag fluttering. Effectively, you're hacking the attention of drivers with a sign in perpetual motion.
But it's a strange catch-22: objects in motion catch the eyes of passersby, yet they are more difficult to read as a result. Remember to keep your messaging as simple and visible as possible.
3. Flexibility makes them a great addition to almost any setting.
You've likely seen hundreds of feather banners outdoors, but they can also be brought indoors. In fact, if you plan to use flutter flags solely for indoor applications, they can be outfitted with special inks, which appear brighter under artificial and low-light settings.
If you often bring outdoor signs into your retail store because of inclement weather, now you don't have to plop them down in a warehouse or storage closet! With a feather banner, simply find a small fan and place it beneath the banner material. You've got an instant branding solution that'll flag down potential customers and highlight retail displays.
4. They're easy to use, and quick to set up.
Your set-up time will vary depending on the base your flag pole will be mounted on, but don't expect more than a few minutes of preparation to erect each feather banner. Because they're no more than eight pounds (unless you purchase a weighted base), you won't struggle transporting multiple flag banners at once.
Looking for the feather flag that can be set up the fastest? Flag banners with ground stakes can be planted in soil with a single motion, and as a much-appreciated bonus, stakes provide the greatest stability as well.
5. Flag banners can withstand harsh weather conditions.
Modern promotional flags take advantage of high-quality, composite fabrics that are quite durable in rain, sleet, and snow. They are highly resistant to heat, but aren't fireproof, so don't take feather flags as an opportunity to unleash your inner pyromaniac.
Exposure to direct sunlight however, will cause your graphics to fade over time. Over a short and medium-term promotion, this will hardly make a difference. But if you plan to have your flutter flags last their estimated lifespan of two years, take care to place them under a tree or store awning.
6. When it comes to design, the sky is the limit.
Banner flags still have the positive attributes that people associate with display banners; namely, full-color graphics and the ability to customize targeted copy that'll lure in possible clientele.
Obviously, you don't want to take this capability to its fullest extent – cluttered and noisy design can be the bane of any pedestrian or motorist looking for key information. Not only that, Google researchers also found that "visually complex" websites are consistently rated less beautiful than their simpler counterparts. We'll bet on the safe side and assume that can extrapolated out to sign design too.
For more professional tips and tricks involving feather banners, you can rely on the experts at Signs By Tomorrow Arlington Heights.
Not convinced that custom printed Flag Banners are a perfect fit for you? Find out what is with an expert site assessment courtesy of Signs By Tomorrow Arlington Heights. We have an array of Outdoor Custom Banners for all applications and budgets. And if you're looking for a low-cost solution to help patrons find your event, we offer Outdoor Pole Banners. We invite you to learn more about what Signs By Tomorrow Arlington Heightscan do for you. To get started, contact us today.
What Should You Consider When Creating a Yard Sign?
So, you want to design your own yard signs, or at least, have someone else design them according to your specifications. You know your company or event more than anyone else. Shouldn't you – and you alone — know how to create the best sign for it?
Not so fast. Before you go plopping down corrugated plastic signs on the side of the highway, think about the message you are trying to convey about your business or gathering. There are many ways to impart that message, but relatively few ways to communicate it effectively.
According to the U.S. Sign Council, it takes one second for a driver to detect a sign on a busy road: don't lose motorists with hard-to-read, or even worse, forgettable bandit signage. If you want the best marketing value for your dollar, consider the seven following factors in effective yard signage.
1. Placement of your sign makes a difference.
Location, location, location. Are you going to place your yard signs in yards or lawns? That might depend on the type of event or company you're promoting.
For real estate agents and political campaigners, we'd say go right ahead. For others, you might be better off placing your plastic signs further from quiet, residential areas, and closer to central boulevards, where you can receive up to several thousand impressions a day.
Consider the features of the location as well. If you're placing a yard sign along a green hill, stray away from greens in your color design. Contrast is a key factor in making your signs "pop" out of their environment.
2. Size matters.
We'll start with the obvious: bigger is better. However, what can't be made up in size, can be made up in frequency. That's why yard signs can be just as important as putting up a huge billboard on a busy street.
However, 18 x 24-inch dimensions are the de facto choice for most bandit signs displayed on roadways. Any smaller, and your run the risk of your signage being unreadable for passing drivers speeding beyond fifty miles per hour.
Also, keep in mind that coroplast (corrugated plastic) signs are not invincible, and that the bigger they are, the more likely they'll be tipped over in inclement weather. Make sure your yard signs have sturdy wire stakes, so they can survive wind, sleet, and snow.
3. Fonts: Keep them simple.
For every inch of letter height, your sign will generally gain ten feet of readability. Because drivers have little time to process your lawn signs at certain speeds, typeface doesn't aesthetically matter as much as it would in traditional branding.
With that said, stay away from thin or script typefaces. They'll affect visibility, and you'll need your sign to be legible from long distances, to guarantee the maximum impact.
Standard typeface, like Garamond, Helvetica, Times New Roman, and Baskerville, can be used to provide ample readability. And say what you will about Comic Sans and ugly fonts – a 2010 Princeton study found that people who read in "disfluent" typeface retained more information than those who read the same thing in Arial.
4. Stay smart with your color choice.
Advertising for a business or event? Avoid using patriotic color combinations, as red and blue signs typically get lost in the crowd of candidate slogans and political messages.
The crucial component to coloring is contrast. Look around at your location: what colors are your competitors using? Choose the opposite. Sure, this will help you stand out from the crowd, but it'll also differentiate you in the marketplace as an outside-of-the-box thinker.
Don't forget that roughly 8% of all men, and 0.5% of all women, are colorblind, and many haven't realized it yet. Avoid blues and greens, and don't place similar colors and patterns together.
5. Decide on single or double-sided signage.
Looking for a low-cost signage solution? If you're placing your yard sign on the side of multi-lane road, chances are the drivers on the opposite side won't be able to see it anyway.
So, stick to single-sided signs, and save a few dollars. Unless your municipality allows you to put sandwich board signs in the center median, of course.
6. Logos aren't always better.
Except in the rare case that your business has some national or local recognition, branding your signs probably won't help flag down motorists.
When creating your sign, every inch of space is necessary for describing your business or event. A brand image is often too complex for a passing driver or passenger to understand in few, precious seconds.
7. Copy should be simple.
In fact, there shouldn't be much copy at all, if you're looking for the most effective sign. Ideally, you should cut your lawn sign's text down to less than five words.
Those words might include what your business does, your location, and a phone number. Make good use of arrows for highlighting information.
For more professional tips and tricks involving yard signage, you can rely on the experts at Signs By Tomorrow Arlington Heights.
"What are the other things I should consider when creating a yard sign?" you ask. Find out with an expert site assessment courtesy of Signs By Tomorrow Arlington Heights. We have an array of Yard and Sidewalk Signs for all applications and budgets. And if you're looking for a custom, specialty solution to your event, we offer Outdoor Specialty Signs. We invite you to learn more about what Signs By Tomorrow Arlington Heights can do for you. To get started, contact us today.
---
Upcoming Events this Spring & Summer? Get Ready with Yard Signage.
Whether your expected number of guests is in the hundreds, or somewhere in the thousands, using effective, custom yard signs can make or break the success of any gathering. When planning any event, conveying information about your brand, event, or even just providing directional wayfinding, is critical. Portable and easily transported, yard signs are often the simplest way to communicate a message to a large amount of people in a relatively inexpensive way. But before we get into why these little, plastic placards are so powerful, we'll start by defining what qualifies as a yard sign.
What makes a yard sign…well, a yard sign?
Frequently referred to as event signs, directional signs, lawn signs, or bandit signs, yard signs are small, rectangular panels, often consisting of corrugated plastic and an H-frame. Placing down a yard sign only requires putting the two wire posts, which jut out of the sign's bottom, into the ground—hence the moniker, yard sign. We recommend you stick to soil though – metal posts don't usually penetrate concrete (who'd have thought?).
Why yard signs are a perfect for your next event:
1. Yard signs are versatile.
Yard signs are not just for yards. You can use them to build top-of-the-mind awareness of your event by sprinkling them throughout city streets and along pedestrian walkways.
Not only that, but yard signs can help attendees of your event navigate a confusing layout. A series of outdoor directional signscan keep your guests on route and out of restricted areas. And because they can be moved around so easily, shuffling around venues and temporary stands is a simply a matter of reorganizing your temporary signage.
2. Yard signs are bold, bright, and memorable.
Lawn signs are popular for a reason: they're an effective touchpoint for attendees walking through a chaotic gathering of people. Often designed and sized to custom specifications, yard signs never appear generic or blend into the crowd (unless you want them to, of course).
Looking for another eye-catching way to raise your brand or event's profile? Place your logo and color scheme on directional signage to further increase visibility.
If you're still wondering where to place your signs for maximum impact, check out a few ideas here.
3. Yard signage is one of the most affordable ways to promote your event.
Yes, billboards are admittedly large. But they also cost thousands of dollars a month and lack the ability to target a specific audience.
With plastic event signage, you can blanket the neighborhoods most likely to attend your seminar, conference, or festival—at a fraction of the cost.
4. Yard signs are lightweight, and easy on the back.
Because lawn signs are made of corrugated plastic in a sandwich-board design, they can be transported with little difficulty. A-frame signs and post and panel signs can be cumbersome to install over a large area because of their weight, but hundreds of yard signs could potentially fit in a transport vehicle.
5. Yard signs are durable and weather-resistant.
A well-made yard sign will withstand the elements, allowing you to reuse your plastic signage again and again. And as long as they're firmly planted into the ground, they won't blow away in a storm either. Talk about affordable.
For more professional tips and tricks involving yard signage, you can rely on the experts at Signs By Tomorrow Arlington Heights.
"How else can I get yard signs to work for me?" you ask. Find out with an expert site assessment courtesy of Signs By Tomorrow Arlington Heights. We have an array of Yard and Sidewalk Signsfor all applications and budgets. And if you're looking for a low-cost solution to your event, we offer Outdoor Plastic Signs. We invite you to learn more about what Signs By Tomorrow Arlington Heights can do for you. To get started, contact us today
---
Are you Properly Displaying Safety Signage on your Construction Site?
Fewer work locations have a greater need for safety signage than those for construction. It's considered a high-risk industry. While building accounts for only about 5% of America's employees, construction workers suffer 10% of the country's major injuries and over 20% of fatal injuries.
Given these risks, the Occupational Safety and Health Administration (OSHA) and American National Standards Institute (ANSI) have developed construction sign and site signage regulations. They promise safer conditions for the nearly 6.5 million people who work at over 250,000 building sites in the U.S. each day.
OSHA & ANSI: An overview
OSHA's 29 CFR 1910.145 guideline covers signs and tags that identify hazards. It cites when safety signs must be used and details their design requirements. These design elements form the basis of ANSI's Z535 standard. It builds on OSHA's rules by specifying alert symbols and pictograms to alert workers to hazards. Almost every aspect of safety sign design is addressed. These include:
Colors, e.g., red, orange, yellow, etc.
Letter size and style
Placement of signs and labels
Wording, e.g., "Danger" or "Caution"
Types of danger, warning and caution signs
OSHA and ANSI have created three risk severity classifications for construction site hazard signs. They are:
Danger signs: These signs alert workers to the most serious hazards where death or serious injury is almost certain to occur if the risk is not avoided. Danger signs feature the word "Danger" printed in white letters on a red background. The word is preceded by the safety alert symbol: an exclamation point within a triangle.
Warning signs: Warning signs notify people to threats that can result in serious injury or death (but where the overall risk fall short of using a standard danger sign). The safety alert triangle appears to the left of "Warning." Warning signs are printed in black over an orange background.
Caution signs: This signage usually warns against unsafe practices. The risks noted may cause minor or moderate injuries if they're not avoided. On caution signs, "Caution" is printed in black on a yellow background. As with danger signs and warning signs, a safety alert symbol appears to the left of the signal word.
Five kinds of safety signs
While construction site danger signs, warning signs and caution signs steer workers away from hazards, OSHA- and ANSI-compliant safety signs do just the opposite: They help people stay healthy and productive without alerting them to risks. The five types of building site safety signs include:
Admittance signs: Admittance signs alert people to the dangers and consequences of entering a restricted area. Example: "Employees only!"
Fire safety signs: Fire safety signs point out the locations of firefighting equipment as well as fire exits. Example: "Fire extinguisher."?
General safety signs: General safety signs deliver messages. These relate to first aid, medical equipment, sanitation and more. Examples: "Emergency eyewash fountain" or "First aid kit."
Non-hazard signs: Non-hazard signs communicate general safety information including directional information in the interest of creating a safer worksite. Examples: "Restrooms" or "Manager's office."
Notice signs: Notice signs convey information about an area, building or equipment. They often detail instructions, maintenance information and procedures not directly related to safety. Example: "No smoking area."
Positioning your construction site safety signs
The Occupational Safety and Health Administration offers these guidelines to properly display safety signage on your construction site:
Danger signs: Your site's danger signs should be positioned wherever a hazard poses an immediate danger to your team and when special precautions must be taken.
Caution signs: Post caution signs where they can warn workers of potential risks. Also, use them to advise against unsafe practices.
Safety signs: Mount safety signs wherever security recommendations and other instructions can help your employees conduct their jobs in a safe manner.
Need safety signs for your construction site? See Signs By Tomorrow Arlington Heights for affordable solutions.
Rely on us for a full selection of Outdoor Safety & Compliance Signs. We have solutions for every worksite and all signage budgets. To get started, contact us today.
---
What Type of Retail Signage will Best Suit your Business?
With all the many styles of retail signs available to you, it's easy to get overwhelmed with the number of choices. But, if you break down signs by function, your task gets much more manageable. Here are four tips on what type of retail signage will best suit your business:
1. Outdoor signs: Exterior signage is the most important kind of sign in retail because it's what gets prospects through your doors. Be it storefront signage, window lettering or any of many other kinds, your outdoor signs will make the first impression shoppers have of your business.
Consider all your options, including monument signs, pole or pylon signs, and post-and-panel signsyou might position at street side to attract motorists. Entrance signs, LED signs, branded awningsand lighted channel letters are types you could mount on your storefront.
Whatever your choice or choices, make sure your outdoor signs are distinctive enough and sized to attract attention. Also, weigh your choices carefully. Research from The Signage Foundation notes that a new retail pole or pylon sign increases business by 15.6%, a monument sign by 9.3%, and then two directional signs at 8.9%.
2. Promotional signage: Through convincing language or attractive imagery, these are the signs that alert shoppers to a sale, advertise a product or service, or announce an event. In addition to your outdoor signs, your sale signs, promotional acrylic signage and other persuasive signage give you another great opportunity to draw customers through your doors.
Research confirms what you probably already know about the value of promotional signage. According to statistics published by betabait.com, 88% of the total impulse purchases are created primarily because the items are on sale!
3. Wayfinding signage: These signs help customers navigate your space more easily, and may be known as organizational signage, departmental signage or directional signage. After all, the easier you make it for a shopper to locate what they came in for, the more likely they are to count on that convenience in the future and return to your store.
Your store's wayfinding signage should be easy-to-read and posted where consumers start their journey. This is sometimes at your main entrance, but oftentimes in your parking lot. You'll want to provide easy directions to all departments, service centers and, of course, your checkout lanes!
4. ADA signage: Required by law under the Americans with Disabilities Act, ADA-compliant signagecommunicates the accessibility of parking, entrances/exits, restrooms, cashier stations, fitting rooms, and elevators.
With ADA signage, you'll not only be compliant with the law, you'll also make all customers feel welcome. The ease with which they can find and access parking, entrances, cashier counters, fitting rooms, restrooms, and elevators will make the experience of disabled customers more enjoyable. Of course, the more comfortable they are within your store, the more likely they are to shop and return to shop again!
For all types of retail signs at affordable prices, see Signs By Tomorrow Arlington Heights.
With a complete selection of Outdoor Retail Signs and Indoor Retail Signs as well as Indoor Safety and Compliance Signs and more, we have solutions for every application and all budgets. To get started, contact us today
---
How can Dynamic Signage Improve your Business?
Today's signs are active, especially electronic displays (also called digital signage or LED signs), which allow you to show moving text, graphics and even videos. Impressive to be sure! But, how can this dynamic digital signage improve your business?
Here are just a few ways you can use digital LED signs to bring new customers into your business or prompt greater sales among those already in your doors!
Attract greater attention: Digital business signs are brighter than other types of store signs. This means that more prospects and customers can see your digital signage from further away. Whether your store traffic arrives by car or by foot, your dynamic sign will be the first thing that most people see!
Spur more impulse buys: Has new merchandise arrived? Are older items taking up shelf or floor space? Give shoppers a reason to stop in and spend with LED signs. Digital outdoor signage is a great way to put discounts or specials in front of passersby. The benefit? More spur-of-the-moment sales!
Promote timely specials: Digital store signs are dynamic. This means you can easily change your messages (most often via a computer). Use this flexibility to your advantage! Let drivers know your gas station serves morning coffee. Advertise outdoor athletic equipment on weekends or sunny days. The needs of consumers change throughout the day and week. With digital retail signs, your sales appeals can, too!
Put all promotional space to use: On countertops, in your front windows and in other limited spaces, even small LED signage will attract attention. Use them as sales signs to focus attention on the products close at hand, or as store signs to flag down prospects who might otherwise pass you by!
Introduce your staff: Don't think of dynamic digital signs as only about dollars and cents. LED signs can also showcase your company's history, highlight your community involvement and introduce your workers. Successful companies realize that such connections are often key to earning trust and gaining repeat business.
Attract customers, promote sales and more with dynamic digital signage. See Signs By Tomorrow Arlington Heights for budget-friendly solutions.
With a complete selection of digital signs for indoor and outdoor use, we have solutions for every application and all budgets. To get started, contact us today.
---
Great Reviews Keep Rolling In!
Our clients' satisfaction is extremely important to us. So we take great pride in the ratings, feedback and reviews that we receive back. Before your next, great project, take a look below and see for yourself, why we're the Sign Company to beat!
4.9 of 5 stars / 46 Google+ Reviews
4.9 of 5 stars / 31 Facebook Reviews
4.8 of 5 stars / 563 Client Satisfaction Surveys
Call Signs By Tomorrow of Arlington Heights today at 847.255.0123 to see how we can help you with your next signs or graphics project.
---
What are the possible uses for wall graphics?
Walls are meant to do so much more than simply hold up your ceiling. With the right graphics, walls that were once drab and dreary can transform a room, giving you the power to brand, inspire and beautify.
Wall graphics come in many shapes and sizes – literally! And, there are a variety of types available! Cut vinyl letters allow you to mount a slogan or quote to a wall. Cut vinyl wall decals let you post one or several graphics, such as a logo or products offered. If you'd like to cover a larger space with a custom wall mural, you have two options: vinyl wall wraps and custom wallpaper.
Vinyl wall wraps stretch from corner to corner and floor to ceiling. Custom wallpaper – similar to what you'd buy off the shelf – is one-of-a-kind and digitally printed with your choice of photos, or in a corporate color that's all your own!
So, given these options, what are the possible uses for wall graphics?
Here are some ways that stores, restaurants, offices, schools and others are using vinyl lettering, wall graphics and custom wall murals to personalize, motivate and excite!
Welcome visitors with lobby wall graphics
When visitors enter your reception room, greet them with a vinyl wall decal of your logo. Or, use wall decals to demonstrate your product or service in action. Another option? Install a full-wall vinyl mural or add custom wallpaper. The mural might showcase classic cars if you're in the automotive industry or historical photos to reflect your history. Own a French restaurant? Take them to Paris with an image of the Champs-Élysées!
Digitally printed custom wallpaper can also be used present a mural, or to accent your logo by flying your corporate colors.
Improve the décor of your entire facility
Don't limit the benefits of vinyl wall graphics or custom wall murals to your lobby. Apply the same creativity to walls in conference rooms, executive offices or well-traveled hallways. Wall decals or wall murals can reveal your company's heritage through vintage drawings or sketches of early designs or inventions. Celebrate a success with a photo of your high school team winning the championship game, or use wall decals and vinyl wall lettering to honor important donors at your hospital or charity.
Motivate workers with wall quotes
Something as simple as your corporate tagline in vinyl wall letters or an inspirational quote from a philosopher or philanthropist can motivate workers. Tap into your internal resources; raise a quote in vinyl letters from the company founder on the importance of quality or creativity. It could inspire visitors and employees alike! Post these in your hallways, lobby or conference room. Use them in a break room or employee kitchen.
A whimsical quote or reference to pop culture in vinyl letters can fuel a positive and light-hearted work environment. For your die-hard Star Wars fans, may we suggest: "When Serving your Customers, May the Force be with You!" Alternately, try "Coffee is for Clothiers!" at a department store or "Keep Calm and Steal Home" in a coach's office.
Of course, your vinyl lettering for walls does not need to spell out a slogan or maxim. You can create a focus wall with vinyl letters for encouraging words, such as "quality," "integrity," "service" and the like.
Go the wayfinding route
Point visitors in the right direction with vinyl lettering for walls that directs them to "Restrooms," "Science Classrooms" and other destinations. These vinyl wall graphics might include arrows, cartoon-like pointing hands or perhaps a vinyl graphic of a fork and knife matched with "Dining Room."
An attractive choice for any application
Vinyl lettering for walls, vinyl wall graphics and custom vinyl wall murals are endlessly customizable and affordable. They're also easy to clean and maintain. Most feature laminates that protect the surface and provide for easy cleaning. That makes them a great choice for restaurants and retail stores as well as busy office hallways, schools and libraries. Cleanup can be as quick and simple as a swift wipe-down with a moist cloth!
Brand, inspire and beautify with vinyl wall graphics. See Signs By Tomorrow Arlington Heights for budget-friendly solutions.
With a complete selection of indoor vinyl lettering and graphics, we have solutions for every application and budget. To get started, contact us today.
---
Deck the Walls: What are the Benefits of Wall Graphics?
With today's advancements in affordable wall graphics, you can bid goodbye to bland and unimaginative stores, restaurants, offices, schools and other facilities! Custom wall graphics and wall murals enable you to boost your brand, inform your guests and workers or enhance your décor.
You can choose from several styles. Vinyl lettering helps you display a company name, inspirational quote or mission statement. Custom wall decals (i.e., wall stickers) are ideal for showcasing a logo or other graphics on a portion of a wall.
Go big or go home! Custom vinyl wall wraps and wall murals can stretch to all four corners of a wall if they're digitally printed in vinyl. They also feature a laminate to protect the print and provide an attractive finish such as gloss, luster or matte.
One other option is digitally printed custom wallpaper that can brandish a scenic mural. Of course, custom wallpaper can also feature a one-of-a-kind pattern, color or texture not found in off-the-shelf wallpaper choices.
5 Benefits to Wall Graphics
1.Wall graphics create a memorable experience. Wisk them away to Paris in a French restaurant with a large mural of la Seine. Honor key contributors at a hospital with their photos. Commemorate a school victory with a photo of the team hoisting the championship trophy. Let your imagination inspire you!
2.Wall graphics reinforce your brand. Custom wall decals allow you to present logos, slogans, and key products. Create a "history wall" of original blueprints to emphasize your heritage. Or, personalize your walls with wall wraps or wallpaper in your corporate colors. Don't let valuable square footage go unused!
3.Wall graphics can be removable or permanent. Custom vinyl lettering, removable wall decals, and vinyl wall wraps let you change your look often for new seasons or special events. Custom wallpaper is the choice for longer-term applications.
4.Wall graphics are durable. They're also almost maintenance free. In busy areas, painted walls may need frequent cleaning to maintain a like-new appearance. In contrast, vinyl lettering, custom decals, and vinyl wall wraps are highly durable and require little upkeep.
5.Wall graphics are economical. With wall decals and vinyl wall wraps, you can produce true-to-life landscapes, photographs, and art at a fraction of the cost and time required for hand-painted designs or murals.
Spruce up your space! Visit Signs By Tomorrow Arlington Heights for affordable solutions in wall graphics.
Our temporary, re-positional or permanent custom indoor wall coverings can transform ordinary walls into interior design masterpieces or brand showcases. What's more, we have solutions for every application and budget! To get started, contact us today.
---
Problem Solvers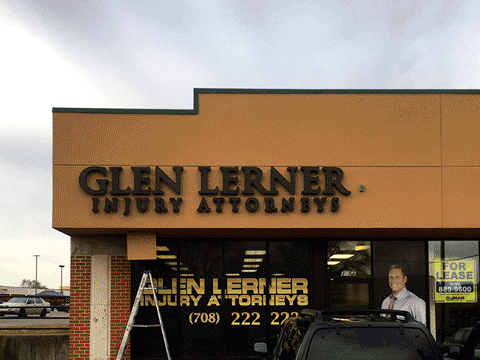 We're no scientists, here at Signs By Tomorrow, but from time to time, we are tasked with solving some real head-scratchers. How do you take an exterior sign, that's bound by natural lighting conditions we cannot control, and make it visible 24 hours a day? Sure, during the day, the black letters are nicely contrasted against the light beige background. But those same black letters, would completely disappear at night. We find the answer to that question to be somewhat… illuminating. ;)
---
Major Achievements
While attending the 2017 Alliance Franchise Brands National Conference, Signs By Tomorrow, Arlington Heights received an Outstanding Performance Award. Based on our sales achievements, we were noted as the 2nd Highest Volume Diamond Center within the network. We had a fantastic 2016 and we're off to an even greater start in 2017. Congratulations to the SBT ownership and staff!
---

---
Delivering A Powerful Message
Whether you want to motivate your employees or challenge your students to do better in school, it can be a struggle at times to come up with the perfect vehicle to deliver that message. That's where wall graphics come on. Large, effective and relatively inexpensive, they could be the perfect way to display motivational messages, company mission statements and school mottos and slogans. From simple lettering to colorful wall murals with dimensional graphics, the sky is no longer the limit.
---
Unique Look
With all the bells and whistles at our disposal, it is easy to forget that simplicity can be the best weapon in our creative arsenal! Sometimes, all it takes to achieve that eye-catching look, is the right kind of material. Yeah, we could have used all sorts of colors and images in the wrap, but that wouldn't have suited a luxury car like this Mercedes. The understated, subtle look of Carbon Fiber is exactly what this car needed, giving it a deluxe, matte look that would turn anyone's head.
---
Wayfinding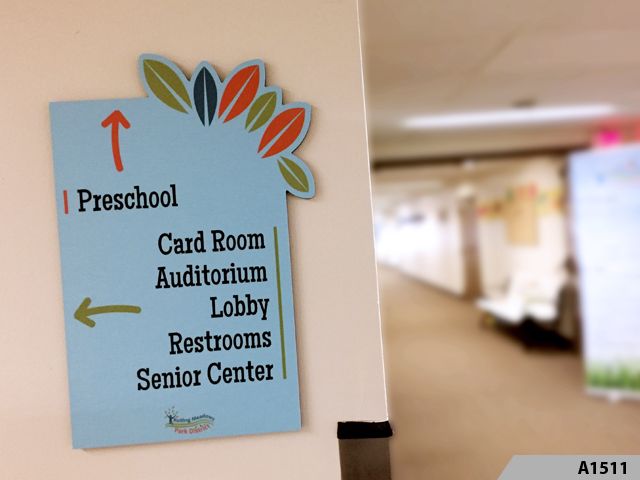 Effective wayfinding solutions are of the utmost importance when dealing with high traffic, in interior and exterior public places. When done incorrectly, visitors may become confused, disoriented and irritated with the lack of proper directional signage. But wayfinding is not just limited to arrows pointing every which way. Identification and informational signs are just as crucial as the arrows that guide you to your destination. And while the signs should look aesthetically pleasing, they must also fit within the greater scheme of not only the company's branding, but also the interior design of the space.
---
We Asked. You Answered
A few weeks ago, we'd asked our clients to help us select a layout for our own, internal wall mural. We received an overwhelming amount of responses throughout our various social media accounts, emails, texts and face to face conversations. The masses had spoken. There was no contest, really. No other option would do. It seems that it was always going to be this stunning, painted view of Chicago at its finest. Windy and beautiful. Shinning ever so bright. For a closer look at the behind the scenes of the installation process, please visit our Facebook and watch the video!
---
Happy Holidays!

Signs By Tomorrow, Arlington Heights, wanted to take a small moment from designing and building your signs, to say 'thank you' to all of our fantastic clients! Thank you for making this year a most memorable one.
Happy Holidays! We hope to see more of you in 2017!
---
The Key To Successful Signage

The key to successful signage implementation, is asking a lot of question. And not just any questions, but the right ones. We ask the questions first internally, before going to our clients. What does the client do? What image are they trying to project onto THEIR clients? How does the rest of their brand fit in with the signage they're requesting? All of these questions, and many more, go through our entire team before we ready our proposal. Doing so, impresses upon our clients, our commitment to keeping the integrity of their brand as strong and sound as we are able to. And the results, well they often speak for themselves.
---
Talking The Talk, Walking The Walk



When it comes to vehicle graphics, we're pulling away from the pack, as we take full advantage of top of the line print technologies, media, design and installation techniques. Backed by the impressive 3M MCS Warranty, we're not shying away from any challenge. But it's all talk, unless we can prove ourselves to our clients. And what better way to do so, than by wrapping our own company cargo van. So, Chicago, if you see this van on the street, make sure to take a closer look and remember… your vehicles can look like this too.
---
Portfolio Pieces

There are times when our clients request a specific look or feel for a sign, and it becomes our job to sift through the hundreds of different production methods to come up with the right solution. Other times, the solution stares us right in our faces from the get go, like this HDU Sandblasted Sign. We only have to recognize it, when we see it. It's never easy, and we never want it to be. Because easy is no fun, and fun is what takes our work to the next level.
---
When the time comes for new logos to go up in vestibules, waiting rooms, hallways and conference rooms, our clients rely on us to take their two dimensional graphics and make them pop. It is our job to make sure that their logos are impressive & eye-catching, while remaining true and consistent with any branding guidelines that our clients may have. It is a delicate balancing act, translating 2D to 3D, but the results, often times, can transcend the original graphic – creating something interesting and unique in the process.
---
If you live in the Northwest Suburbs of Chicago, chances are you'd driven by the Mount Prospect Water Tower once or twice. The village is turning 100 years old on February 3, 2017, and to celebrate this occasion, they'd commissioned Signs By Tomorrow, Arlington Heights to mount 2 brand new logos to the sides of the Water Tower. Next time you're driving by, you'll no doubt notice the tower, and the logos on the sides of it, shinning bright in the sun.
---
Vehicle Wraps are an amazing, long lasting and relatively inexpensive way to promote your business. They are always on the move, entering new markets and putting fresh eyes on your phone numbers and web page addresses. They can be simple or complex. Full or partial wraps. They can be visual eye candy, catching everyone's attention, or informative and straight to the point. The sky is the limit. Using your input, notes and ideas, our creative services can produce a design for you that will meet your specific needs. We are also 3M certified, something that not all signage companies can claim, which means we are backed by industry leaders when it comes to technology, materials and installation methods. To read more about our 3M Warranty, please head over to our news blast.
And if you're curious about how these wraps are installed, visit out FACEBOOK page and see the short start-to-finish video.
---
Stairs can become prime real estate for marketing, advertising and other such messages. In this case, a school had decided to fill their steps with positive, encouraging messages for their students. As you can see, such messages would be hard to avoid, making them very effective signage solutions. And effective signage solutions is what we're all about!
---
If you'd ever worked at or visited a warehouse, you'd agree that these buildings can be massive, hard to navigate and potentially dangerous, if not paying attention. The importance of appropriate signage in these spaces becomes very evident almost immediately. Warnings, wayfinding, identification, crucial guidelines and other important signage will most likely be peppered all over the place. Over time, however, if there were no visual guidelines established in the planning stage, this signage will start to look like a mosaic of different colors, fonts and images, with no rhyme or reason behind it. While some of it may remain effective, taken as a whole, the inconsistencies will make it look disorganized. To avoid this, we work with our clients to established a specific look that reflects their branding guidelines (such as colors, logos and fonts), and maintain this attractive and practical design throughout their facility. The result is a unified interior (and exterior) space that compliments the building, company and its employees.
---
Entryways to your business are one of the first impressions that your visitors can have of you. They can either make or break that vital first contact with a new client. What do naked walls, subpar signage or dated graphics say about you? What do you want to say to your visitors as they enter your business? If outside visits to your offices are an integral part of your everyday business plan, then considering their first impressions must become part of your overall strategy!
---
There are companies out there, that provide essential and important services, but you'd be hard pressed to call what they do "glamorous". When they partner with us, it becomes our job to make sure that their marketing and tradeshow signage is not only effective but also esthetically pleasing. There is real strategy behind our designs. We connect the look of the marketing pieces, to the overall branding scheme of the company. The result is an attractive and cohesive look that exudes professionalism and legitimacy for our clients.
---
Your company is import. Its image is doubly important. And if your company happens to be in marketing... well your image is your currency. If your clients visit your office space and you have nothing but bare walls, what will that communicate to them? If your own branding isn't important to you, how will you treat their branding?
---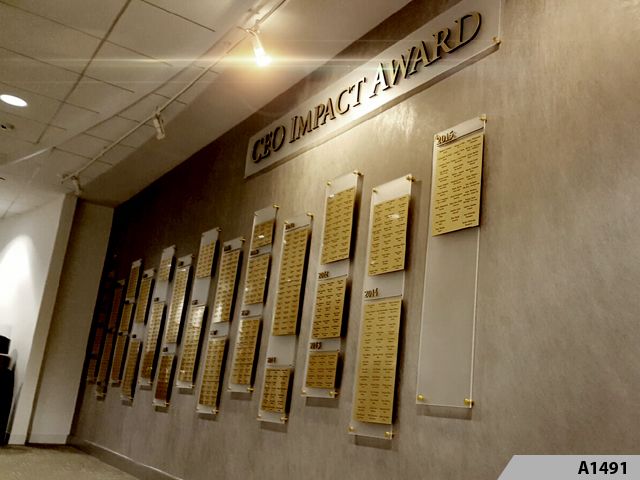 It doesn't take much to put together an impressive donor wall. Combine a good design concept with the right materials and you can transform a naked eye-sore of a wall into something people talk about long after they'd left your building.
---
The Inside Scoop

Sometimes, a conference room is not a conference room, but an extra space for production. And sometimes, a boss is not a boss, but an extra pair of hands. No one on our team is afraid to roll up their sleeves and get things done, when we're busy. When the going gets tough, the tough take over the conference room.
---
Portfolio Pieces

Most would agree, that standard parking signs are boring. Sticking out of the ground with typical green, blue or red lettering. But they don't have to be. Utilizing the latest print technologies and our Creative Services department, the sky's the limit. We can custom design a parking sign just for your company, including any logos or pictograms you may want us to use.
---

Most of the time, we're able to gauge what a particular project will entail from talking to the client, reviewing photos and doing shop drawings. But there are times when a site visit is not only appropriate, but also necessary. We review the conditions, take measurements where needed and discuss solutions with the client right there on the spot. Some projects can be challenging, like the above custom display case. But we don't shy away from such experiences. We relish them.
---
The Inside Scoop

"Coming together is a beginning. Keeping together is progress. Working together is success." -Henry Ford
Even before we all worked together, we were friends and family. Our Production and Customer Experience managers (Kevin and Jason) at Kevin's football game.
---
Portfolio Pieces

We've all seen those boring restroom signs at our local malls and offices. You know the ones. Black background, white text and rounded corners. But did you know that they don't have to be like that? In fact, outside of a few specific traits, they can look like anything you want them to! And if you want to stand out, we'll think outside of the box for you.
---
No matter how "out there" your company logo is, we can figure out a way to make it look good and practical in the real world. Multiple layers, custom shapes and texture patterns. We've seen it all!
---
The Inside Scoop

Our day doesn't always end when the clock hits 5:30. Often times we stay late to brainstorm, discuss and evaluate on-going and up-coming projects. We put our feet up, and talk things through in a relaxed atmosphere, free of the pressures of the typical working day.
---
Portfolio Pieces

Can you smell it? Summer's coming. Right around the corner! And we can't wait to get out there. All the activities and sports. Museums and tours. And the food. Of course we've got the best food. And when you see an exterior illuminated sign like Smokin' T's you can't help but think of mouth watering BBQ!
---
The Inside Scoop

Surrounded by a forest of print media rolls, Alex, our hands-on Business Development Manager, assists in making sure that her latest project is printing correctly.